Low Profile Scissor Car Service Lift Manufacturer CE Approved
Technical Data
Product Tags
Scissor Car Service Lift Low Profile  made by Daxlifter.Lifting capacity reach 3000kg with 1800mm lifting height.Offer pneumatic unlock use 0.4mpa pneumatic pump.Support voltage custom made to fit in customer's local rules but usually make 380v or 220v. We choose 2.2kw strong power motor to guarantee the working performance.This is a important car service lift  in workshop which is popular.
A: The capacity of low profile scissor lift is 3ton.
A: Scissor lift maximum lifting height can reach 1.8m.
A: Our products are produced by the factory's unified production line, and the quality of the products has been CE certified.
A: Both the product page and the homepage have our contact information. You can click the button to send an inquiry or contact us directly: sales@daxmachinery.com Whatsapp:+86 15192782747.
| | |
| --- | --- |
|                                               Model | LSCL3018 |
|                                          Lifting Capacity | 3000kg |
| Lifting Height | 1800mm |
| Min Platform Height | 110mm |
| Single Platform Length | 1500-2080mm(adjustable) |
| Single Platform Width | 640mm |
| Overall Width | 2080mm |
| Lifting Time | 60s |
| Pneumatic Pressure | 0.4mpa |
| Hydraulic oil Pressure | 20mpa |
| Motor Power | 2.2kw |
| Voltage | Custom made |
| Lock&Unlock Method | Pneumatic |
As a professional super low scissor car lift supplier, we have provided professional and safe lifting equipment to many countries around the world, including the United Kingdom, Germany, the Netherlands, Serbia, Australia, Saudi Arabia, Sri Lanka, India, New Zealand, Malaysia, Canada and others nation. Our equipment takes into account the affordable price and excellent work performance. In addition, we can also provide perfect after-sales service. There is no doubt that we will be your best choice!
Large carrying capacity:
The maximum load-bearing capacity of the lift can reach 3.5 tons.
High-quality steel:
It is made of steel materials that meet the standards, and the structure is more stable and firm.
High-quality hydraulic pump station:
Ensure the stable lifting of the platform and a long service life.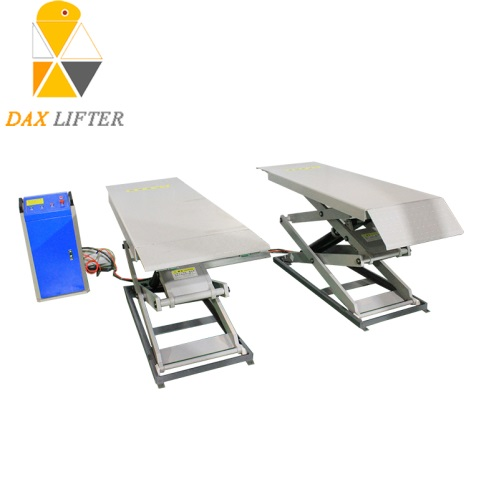 Long warranty:
Free spare parts replacement.(Human causes excluded)
Ramp design:
It is convenient for the car to move from the ground to the platform.
CE Approved:
The products produced by our factory have obtained CE certification, and the product quality is guaranteed.
Scissor design:
The elevator adopts a scissor design, which makes the equipment more stable during use.
Ladder safety lock:
When the elevator rises to different heights, it can be safely fixed to prevent it from falling.
Independent control panel:
The design of the independent control panel ensures that the equipment can be more conveniently controlled up and down during use.
Low self-height:
The minimum platform height for ultra-low profile is 110mm.
Standard steel:
Our scissor lifting equipment uses standard steel, which is durable.
Case 1
Our Venezuelan customer bought our low profile scissor lift and installed it in his auto repair shop to help him better repair the car. The height range of the lifting equipment is 110mm-1800mm, and different heights can be adjusted to assist maintenance personnel in repairing the car.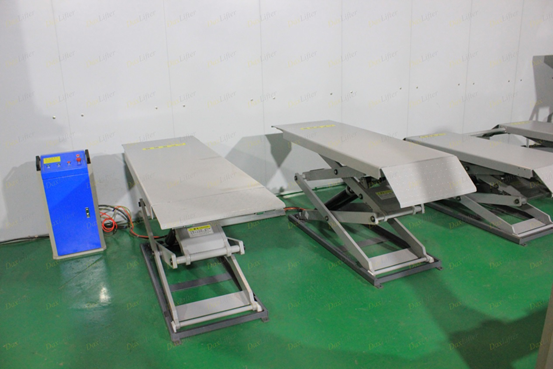 Case 2
Our American customers buy low-profile scissor lifts mainly for auto repair customers in his shop. His shop mainly sells auto parts and equipment. In order to meet his customers' needs, he decided to purchase a few Scissor car service lift. This ultra-low profile lift can be directly installed on the ground without digging, which is more convenient.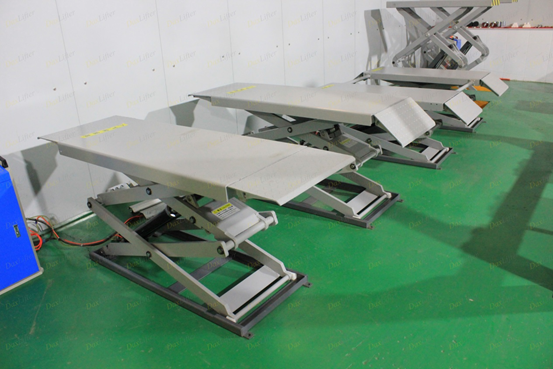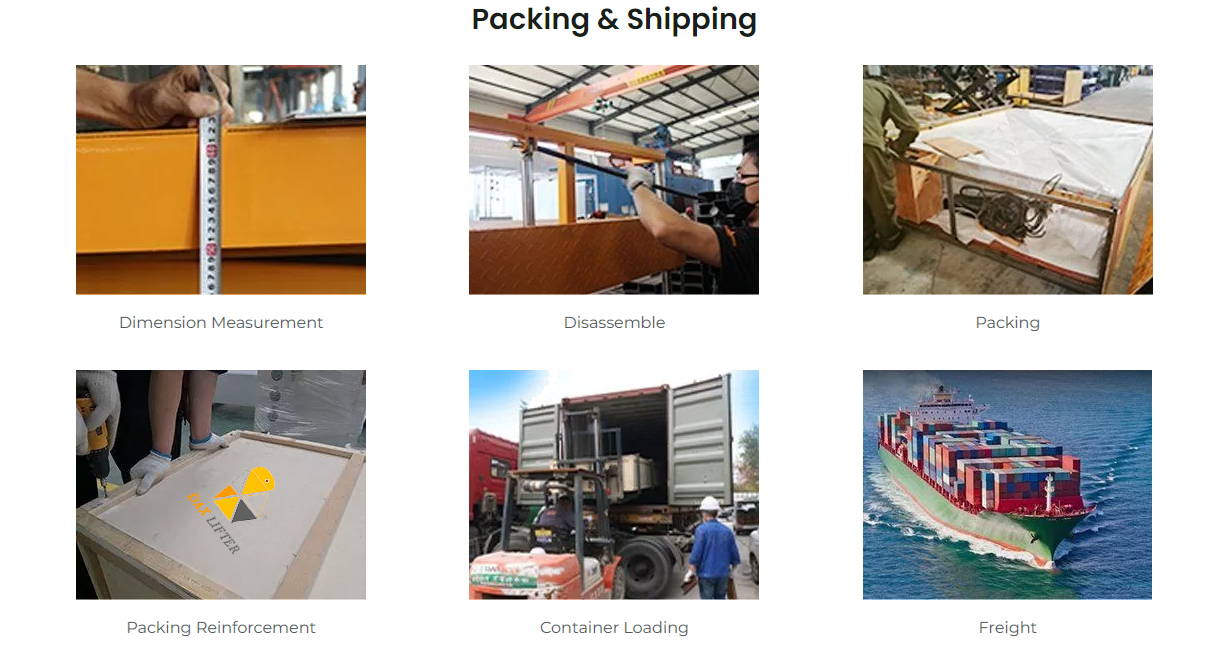 ---
---
Send your message to us:
Write your message here and send it to us