High Altitude Operation Vehicle
Technical Data
Real Photo Display
Features&Advantages
Product Tags
High altitude operation vehicles are mainly used in high-altitude operations such as electricity, street lights, municipal administration, gardens, communications, airports, shipbuilding (repair), transportation, advertising, and photography. In order to provide operational support for more fields, our company also has special vehicles for fire fighting operations. Aerial platform has a high-quality pumping station that makes the lifting process more stable, and at the same time it has a strong ability to overcome obstacles. If you have a smaller operating environment, we have other products to choose from. Please send me an inquiry as soon as you choose the right equipment, and I will provide you with more detailed data.
A High altitude operation truck has a turntable that can rotate 360°, adopts a turbine deceleration structure with lubrication and self-locking functions, and the bolt position can be easily adjusted to achieve the desired effect.
A:You can click the email on the product homepage to send an email directly to us, or you can click "Contact Us" on the website to get more contact information, and choose the method you like to contact us for product information.
A: Our factory has established multiple production lines, which can carry out large-scale standardized production to reduce our production costs, so our price is very advantageous.
A: Our products have passed EU certification, and the quality can be absolutely trusted.
 

Truck Model

HAOV-10

HAOV-12

HAOV-14

HAOV-16

HAOV-18

HAOV-20

General Data

Platform Height(m)

10

12

14

16

18

20

Platform Capacity(kg)

200

Rotation Speed

0-2r/min

1-2r/min

1-2r/min

1-2r/min

1-2r/min

1-2r/min

Max Hook Height(m)

6.4

7.4

8.4

9

11.5

/

Starting system

Electric

Rotation Angle(°)

360 bothway&continuous

Hook Capacity(kg)

1000

/

Control Side

Rotation table/Platform

Main Dimensions

Total Weight(kg)

4495

5495

5695

7490

10300

11500

Curb Weight(kg)

4365

5170

5370

7295

10105

11305

Overall size(mm)

5995*1960*2980

6800×2040×3150

7650×2040×3170

8400×2310×3510

9380×2470×3800

9480×2470×3860

Chassis Model

EQ1041SJ3BDD

EQ1070DJ3BDF

EQ1070DJ3BDF

EQ1080SJ8BDC

EQ1140LJ9BDF

EQ1168GLJ4

Wheel Base(mm)

2800

3308

3300

3800

4700

5100

Engine Data

Model

SD4D/D28D11

SD4D25R-70

SD4D25R/D28D11

CY4SK251

YC4S170-50

ISB190 50

Power/Capacity/HP (kw/ml/hp)

65-85/2433-2771

70/2545/95

70-85/2575/95-115

115/3856/156

125/3767

140/5900/140

Emission Standard

CHINA V Emission Standard

Chassis Brand

Dongfeng

Performance Data

Max Speed (km/h)

99

110

90

Cab Capacity

2/5

2/5

Axle Quantity

2

Axle Capacity(kg)

1800/2695

2200/3295

2280/3415

3000/4490

4120/6180

4080/7517

Tire Quantity

6

Tire Dimensions

6.50-16/6.50R16

7.00R16LT 10PR

7.00-16/7.00R16

7.50R16

8.25R20

9.00/10.0/275

Tread(mm)

Front

1450

1503/1485/1519

1503

1740

1858

1880

Rear

1470

1494/1516

1494

1610

1806

1860

Overhang length(mm)

Front

1215

1040

1040

1130

1230

1440

Rear

1540

1497/1250

1497/1250

2280

2500

3100

Course Angle(°)

Front

21

20

20

20

18

20

Rear

17

18

18

14

12.8

9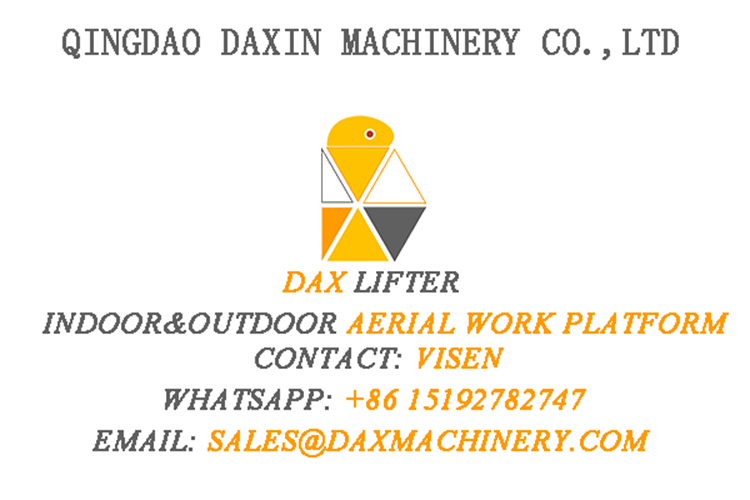 As a professional high altitude operation truck supplier, we have provided professional and safe lifting equipment to many countries around the world, including the United Kingdom, Germany, the Netherlands, Serbia, Australia, Saudi Arabia, Sri Lanka, India, New Zealand, Malaysia, Canada and others nation. Our equipment takes into account the affordable price and excellent work performance. In addition, we can also provide perfect after-sales service. There is no doubt that we will be your best choice!
H type outrigger:
The design of the H-shaped outrigger can ensure a stable and safe high-altitude working environment.
High-quality pump station:
The equipment is equipped with the high-quality pumping station, it's more stable when the basket lifting.
Rotary table 360 ° rotation:
Its shaft can rotate 360 °, so the working range at high altitude is large.
Wide scope of work:
The high-altitude operation vehicle is easy to move, which broadens the scope of the work area.
Good quality cylinder:
Our equipment adopts good quality cylinder, which has a longer service life.
Safety Precautions:
Explosion-proof valves/Spillover valve/Emergency decline valve/Overload protection locking device and so on.
Case1
Our German customer has its own leasing company and bought our High Altitude Operation Vehicle for rent. Through communication, he told us that aerial work truck rental is very popular because it is very convenient to move to various work sites. Its customers like this equipment very much, and he decided to purchase another one. He told us that they usually use high-altitude vehicles to repair and maintain some outdoor buildings. When he buys our products again, we have some discounts for our old friends, hoping that his leasing company can be favored by more and more customers.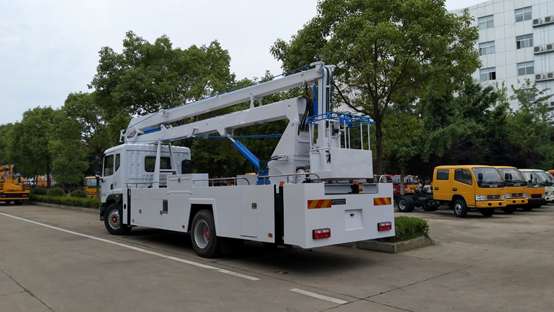 Case2
One of our clients in Dubai has bought our Aerial work Truck to be used in the car scrapyard to move Scrap cars. Since using this work truck, they now have more space in the abandoned yard. He used this equipment to reasonably place the used cars. The stacking height is obviously much higher than before, and his workers' work is also much easier. We are really happy to hear that our equipment makes them a lot easier.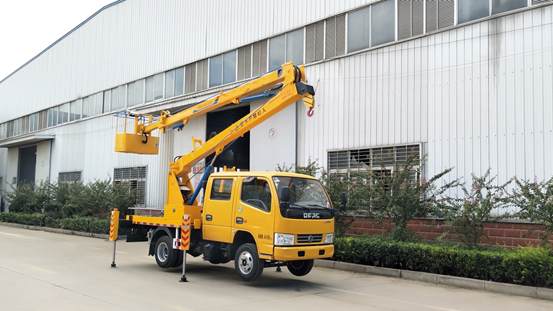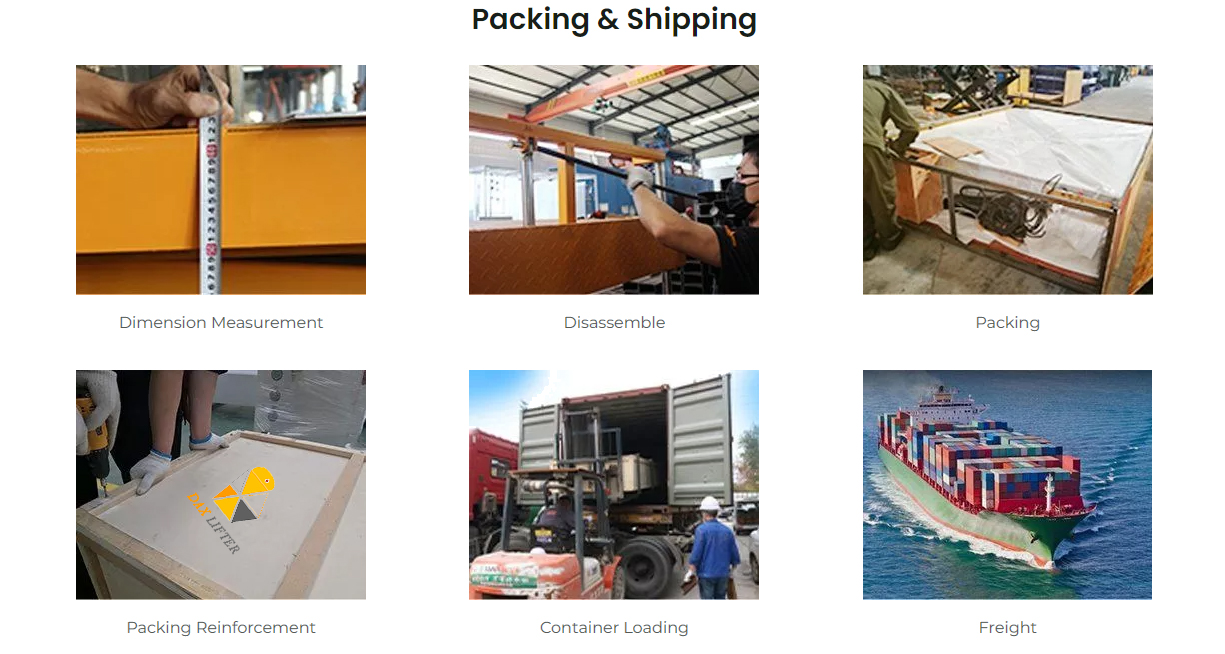 ---
Previous:
Horse Trailer
Next:
Foam Fire Fighting Truck
---
Advantages:
1.Good stability base on H type outrigger and suit for any kind working environment.
2.High quality pump station make it lift and fall very stably.
3.Anti-pinch scissor design; main pin-roll place adopts self-lubricating design which prolong life span.
4.Equipped with Integrated electronic control valve block achieve easy operation.
5.Pressure relief valve prevent overload operation; Flow control valve make descent speed adjustable.
6.Explosion-proof valve stops platform lowering quickly when pipe bursts.
7.Up to American standard ANSI/ASME and Europe standard EN1570
Features:
1, The boom and legs are made of low alloy Q345 profiles, surrounded by no weld, beautiful appearance, the force, high strength;
2, H-leg stability, legs can be operated simultaneously or separately, flexible operation, can adapt to a variety of conditions;
3, Slewing mechanism is adjustable, easy to adjust;
4, Two-way rotary table 360 ° rotation, the use of advanced worm gear deceleration mechanism (with self-lubricating and self-locking function), post-maintenance can also easily adjust the bolt position to easily achieve the desired effect;
5, The car operation using integrated control valve block mode, beautiful layout, stable operation, easy maintenance;
6, Get off and on the car interlocking, safe and reliable operation;
7, The car operation through the throttle valve to achieve Promise speed;
8, The work platform using mechanical leveling, more stable and reliable;
9, Turntable and basket with start and stop switch, easy to operate, save fuel
Safety Precautions:
1. Explosion-proof valves
2. Spillover valve
3. Emergency decline valve
4. Overload protection locking device.
5. Emergency decline valve
6. Overload protection locking device.
Our Service:
1.The most suitable model will be recommended to you once we know about your requirement.
2.Shipment can be arranged from our port to your destination port.
3.Opetion video can be sent to you if needed.
4.Maintenance video will be given once the self propelled scissor lifts platform break down to help you repair.
5.Parts of truck can be sent to you by express within 7 days if needed.
Send your message to us:
Write your message here and send it to us