Floor Shop Crane
Technical Data
Real Photo Display
Features&Safety Precautions
Product Tags
Floor Shop Cranes can be used in many industries. Machine crane has a large load-bearing capacity and is more convenient to operate. Mini Crane can lift heavy objects easily and free the hands of the operator. Mobile Battery Crane are equipped with a powerful battery, and you can take it to work in different places. Compared with Electric hoist, crane is more flexible when working indoors. In addition to this product, we also have many products used in production and life, which can make our work easier and more efficient. If you need such an excellent product, please send us an inquiry for more specific details, and we are waiting for you.
A:When the crane is working with only one boom, hydraulic crane can bear a weight of 1 ton. If you have special needs, you can contact us to customize it for you.
A:Of course, the rotating main boom can be customized for you to improve work efficiency.
A:In order for me to provide you with better and more accurate services, you need to provide me with the maximum lifting height, capacity, and main arm rotation range you need.
A:Under normal working conditions, mobile crane can work for a whole day or even longer.
As a professional floor shop crane supplier, we have provided professional and safe lifting equipment to many countries around the world, including the United Kingdom, Germany, the Netherlands, Serbia, Australia, Saudi Arabia, Sri Lanka, India, New Zealand, Malaysia, Canada and others nation. Our equipment takes into account the affordable price and excellent work performance. In addition, we can also provide perfect after-sales service. There is no doubt that we will be your best choice!
Adjustable Legs:
When the crane is working, work safety can be guaranteed.
Control platform:
When the crane is working, it's convenient to control the crane. 
Hook with chain:
The hook of the crane is connected by a lifting chain, which has a stronger capacity and is safer in use.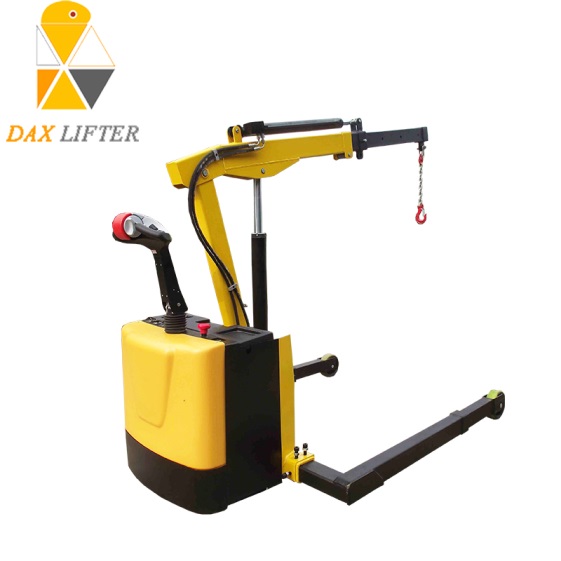 Move handle:
The moving process is more convenient.
Belly Switch:
When an emergency occurs, you can touch the switch with your belly to stop the crane in time.
High-quality cylinder:
Our equipment adopts good quality cylinder, which has a longer service life.
High-quality main boom:
The equipment is equipped with a main boom with large supporting capacity to make the lifting process more stable.
Extended boom:
The extended boom increases the working range of the crane.
Easy to move:
The design of the control handle is convenient to manually move the crane to different work sites.
Case 1:
One of our customers from an American auto repair shop purchased our Floor Shop Crane to carry some heavy auto parts in the workshop.
In the chat with Jerry, he told us that it is great to use. He has no use of hands to carry heavy accessories at all, saving a lot of effort, and because our quality is very good, he decided to continue to buy one of us Floor Plate 2 Post Car Lift is used to better repair the bottom of the car. I think Jerry will continue to cooperate with us, and may even become good friends with us.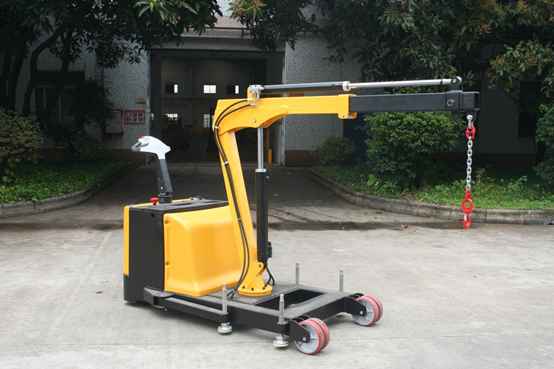 Case 2:
One of our Australian customers bought a ground shop crane for material handling in the factory. Because our products have a very good quality, they have been recognized by Tom and his workers. After several conversations, they decided to buy back several cranes and apply for some qualification certificates to become our retailer in Australia. Thank you very much Tom for his trust in our products. We will definitely provide better service and retail support.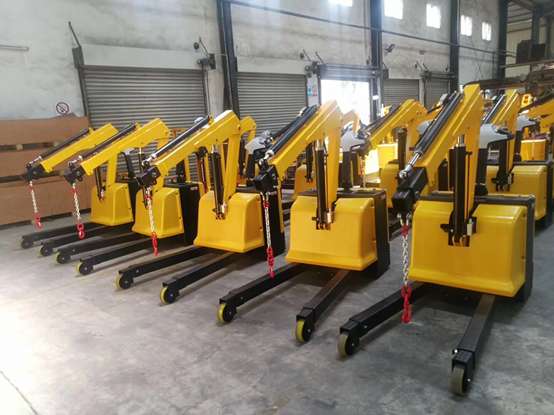 Model Type

Capacity

(Retracted)

(kg)

Capacity

(Extended)

(kg)

Max Lifting Height

Retracted/Extended

Max Length crane extanded

Max length legs extended

Retracted size

(W*L*H)

Net weight

kg

DXSC-25

1000

250

2220/3310mm

813mm

600mm

762*2032*1600mm

500

DXSC-25-AA

1000

250

2260/3350mm

1220mm

500mm

762*2032*1600mm

480

DXSC-CB-15

650

150

2250/3340mm

813mm

813mm

889*2794*1727mm

770
Adjustable leg

Control panel

Cylinder

Extended boom

Hook with chain

Main boom

Move handle

Oil Valve

Option handle

Power switch

Pu wheel

Lifting ring
---
Next:
Vacuum Glass Lifter
---
Features&Advantages
1.Fully powered shop cranes (power hoist & power in/out boom) for moving loads quickly, easily, and safely.
2.24V DC drive and lift motor handles heavy-duty jobs.
Ergonomic handle features easy-to-operate throttle with infinite adjustment of forward and reverse speeds, lift/lower controls, proprietary safety-enhancing emergency reverse function, and horn.
3.Includes an electromagnetic disc brake with automatic dead-man feature that activates when user releases the handle.
4.Powered shop crane has two 12V, 80 – 95/Ah lead acid deep cycle batteries, integral battery charger, and battery level gauge.
5.Poly-on-steel steer and load wheels.
6.3-4 hour operation at full charge – 8 hours when used intermittently. Includes rigid hook with safety latch
Safety Precautions:
1. Explosion-proof valves: protect hydraulic pipe, anti-hydraulic pipe rupture.
2. Spillover valve: It can prevent high pressure when the machine moves up. Adjust the pressure.
3. Emergency decline valve: it can go down when you meet an emergency or the power off.
Send your message to us:
Write your message here and send it to us
Products categories