Hydraulic Self-propelled Scissor Lift High-quality Supplier Good Price
Technical Data
Configuration
Real Photo Display
Product Tags
China self-propelled hydraulic drive scissor lift is widely used in the aerial work platform industry. Mobile scissor lifts usually used in factory operations, high-altitude installations, aviation industry and high-altitude cleaning and maintenance work. In order to support these tasks, there are also a variety of high-altitude scissor lifts to choose from to adapt to different tasks. The biggest advantage of the self-propelled scissor lift compared to the manual mobile scissor lift is that people or workers can stand on the top platform to control the movement of the scissor lift, which is more convenient, but the manual mobile hydraulic scissor lift must use the platform Lower, then close the support leg and let it go to another workplace.
We are a manufacturer of high-quality high-altitude scissor lifts in China. The entire configuration of the factory-produced automatic scissor lift uses many famous brand imported parts, which will make the service life of the electric scissor lift longer and more stable.  If you want to know more specifications, please get a quote!
A: Our scissor lift has passed the global quality system certification and obtained the European Union's audit certification. The quality is absolutely free of any problems and very durable. High stability.
A: Our products adopt a standardized production model, and have established multiple assembly lines, using a large number of automation equipment, automatic welding robots and other equipment to reduce production costs. So our price is very advantageous.
A: We have cooperated with professional shipping companies for many years. They provide us with the cheapest prices and the best service. So our ocean shipping capabilities are very good.
A: We provide 12 months of free warranty, and if the equipment is damaged during the warranty period due to quality problems, we will provide customers with free accessories and provide necessary technical support. After the warranty period, we will provide lifetime paid accessories service.
Model No.

DX06

DX08

DX10

DX12

Lifting Height (mm)

6000

8000

10000

12000

Working Height(mm)

8000

10000

12000

14000

Lifting capacity

300

300

300

300

Folding maximum height-guardrail unfolding (mm)

2150

2275

2400

2525

Folding maximum height-guardrail removed (mm)

1190

1315

1440

1565

Overall Length (mm)

2400

Overall Width (mm)

1150

Platform Size (mm)

2270×1150

Platform extend size (mm)

900

Minimum ground clearance-folding (mm)

110

Minimum ground clearance-rising (mm)

20

Wheelbase (mm)

1850

 Minimum turn radius-inner wheel (mm)

0

Minimum turn radius-outer wheel (mm)

2100

Running speed-folding (km/h)

4

Running speed-rising (km/h)

0.8

Rising/falling speed (sec)

40/50

70/80

Battery (V/AH)

4×6/210

Charger (V/A)

24/25

Maximum climbing ability (%)

20

Maximum working allowable angle

2-3°

Way of control

Electro-hydraulic proportion control

Driver

Double front-wheel

Hydraulic drive

Double rear-wheel

Wheel size-stuffed&no mark

Φ381×127

Φ381×127

Φ381×127

Φ381×127

Whole weight (kg)

1900

2080

2490

2760
As a professional hydraulic self propelled scissor lift supplier, we have provided professional and safe lifting equipment to many countries around the world, including the United Kingdom, Germany, the Netherlands, Serbia, Australia, Saudi Arabia, Sri Lanka, India, New Zealand, Malaysia, Canada and others nation. Our equipment takes into account the affordable price and excellent work performance. In addition, we can also provide perfect after-sales service. There is no doubt that we will be your best choice!
Operating platform:
Easy control on platform for lifting up and down, moving or steering with speed adjustable
Emergency lowering valve:
In the event of an emergency or power failure, this valve can lower the platform.
Safety explosion-proof valve:
In the event of tubing burst or an emergency power failure, the platform will not fall.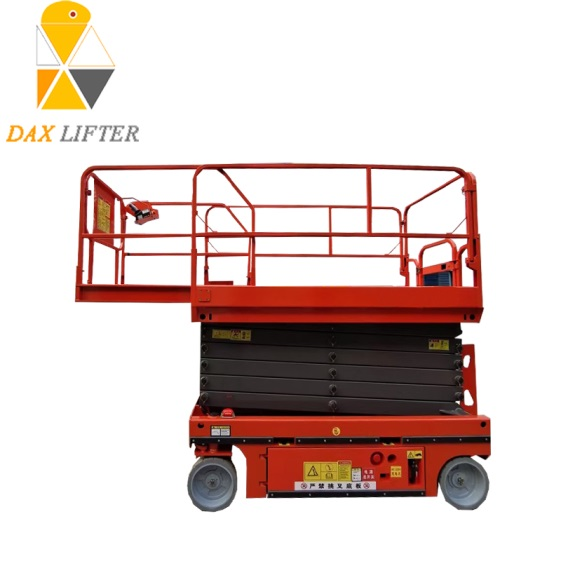 Overload protection:
An overload protection device installed to prevent the main power line from overheating and damage to the protector due to overload
Scissor structure:
It adopts scissor design, it is sturdy and durable, the effect is good, and it is more stable
High-quality hydraulic structure:
The hydraulic system is designed reasonably, the oil cylinder will not produce impurities, and the maintenance is easier.
DC Power:
It adopts DC power supply and can be controlled manually. Reduce obstacles and power supply problems during the movement.
Simple structure:
When the product is out of the warehouse, it is already complete equipment, and doesn't need to be assembled by yourself, making it more convenient to use.
Self-propelled function:
Hydraulic drive scissor lift has the function of self-propelled, doesn't need manual traction to move, it moves flexibly and is easy to operate
Indoor and outdoor work:
Hydraulic scissor lift can be self-propelled which makes it can move freely indoors or outdoors.
Extendable platform:
The working platform of the hydraulic scissor lift can be extended to widen the working site, and multiple workers can work together on the platform.
China hydraulic self-propelled scissor lift is a very important equipment in the aerial work industry. You can see the mobile scissor lift in large-scale construction sites or on the construction site of road administration facilities.
Case 1:
Our Argentina customer purchases our scissor car to go back to the high-altitude pipeline maintenance of the oil refinery. The worker drives the scissor lift to shuttle between the various pipes. Because this self moving scissor lift is self-propelled type, there is no need to repeatedly open and retract the outriggers. This can save a lot of working time. And our scissor aerial platform is equipped with an extension platform, which can extend the horizontal working range. Compared with self-propelled boom lift lifting equipment, the advantage of the scissor lift platform is that it is more economical and has a larger work surface, which can carry more workers on it. Now the configuration and quality of our scissor lift supplier are very high, and can support customers' work for many years through upgrades and updates. Durable and stable.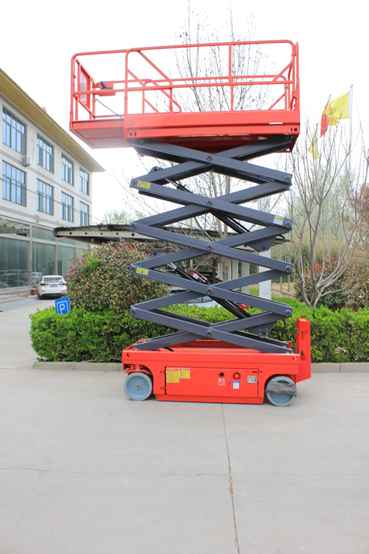 Case 2:
Our Korean customer bought our scissor car and used it for the line maintenance and installation of the power plant. For this reason, we specially customized the insulation platform for customers, and carried out explosion-proof treatment on all electrical components to ensure the safety of the equipment. Now this Korean customer is ready to purchase our scissor cart again.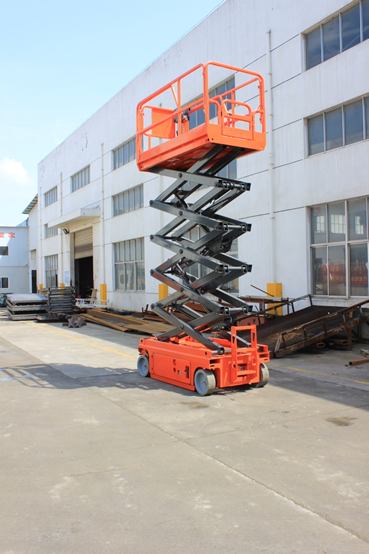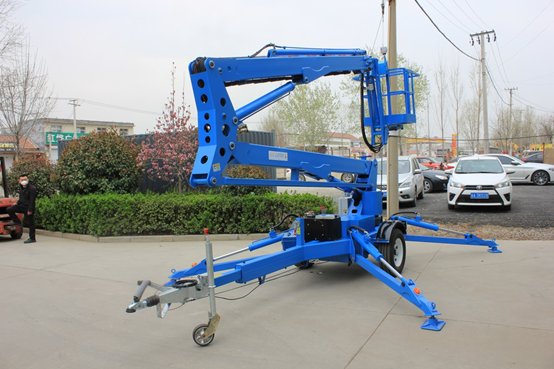 America CUITIS Electric Control Handle on the Platform

Foldable Guardrails with Automatic Lock Gate

Extendable Platform 900mm

High Strength Scissors,Produced by Rectangle Tubes

Italy Hydrappp Hydraulic Pump Station and Italy Doyle Hydraulic Valve

Firm and Durable Chassis with Tilt Sensor Alarm

America TORJAN Battery Group and Shanghai SHINENG Intelligent Charger

Battery Charger Hole

A.Control Panel on Chassis
B.Battery Power Display
Emergency Descent Valve

America White Non-marking PU Driving Wheels

Power Switch

Spray Paint Treatment Anti-corrosion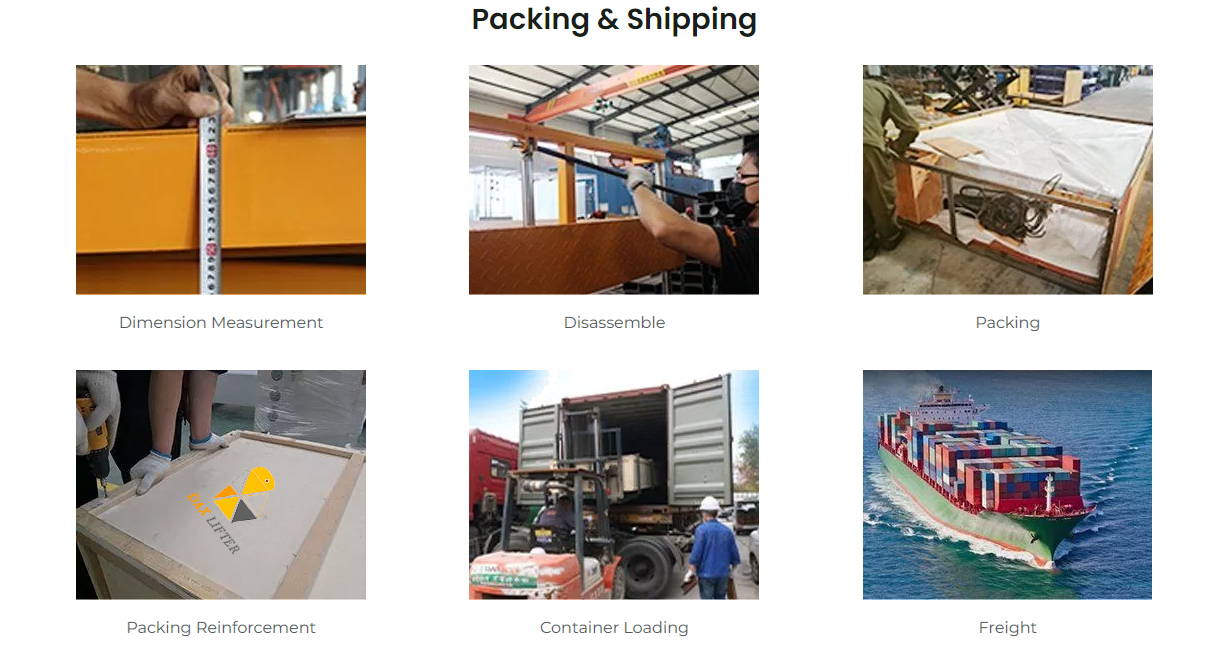 ---
Previous:
Self Propelled Mini Scissor Lift
---
Folding guardrails
Multi-function control handle
Anti-skidding platform
Extendable platform
Automatic lock gate
High strength scissors
Durable hydraulic cylinder
Stable hydraulic pump station
Hydraulic drive motor
Non-marking PU driving wheels
Pot hole automatic protection system
Automatic brakes system
Emergency stop button
Emergent descent valve
Automatic diagnostic indicator
Tilt sensor alarm
Siren
Safety brackets
Forklift hole
Intelligent battery charger
High capacity battery
Features & Advantages:
1. The product is controlled based on the imported intelligent technology.
2. It is powered by DC, can be controlled by manually. It can move automatically and the moving speed is adjustable.
3. It can climb a gradient very well.
4. The recharge will restrict the rising of the platform.
5. The driving motor has the automatic braking function.
6. The emergent drop will be locked.
7. The malfunction can be diagnosed automatically and the maintenance is very convenient.
Safety Precautions:
1. Explosion-proof valves: protect hydraulic pipe, anti-hydraulic pipe rupture.
2. Spillover valve: It can prevent high pressure when the machine moves up. Adjust the pressure.
3. Emergency decline valve: it can go down when you meet an emergency or the power off.
4. Anti-dropping device: Prevent falling of platform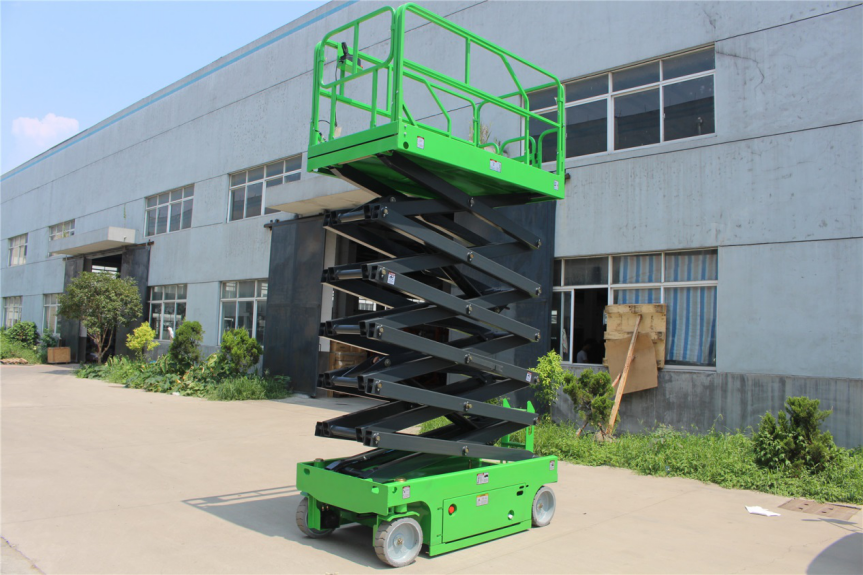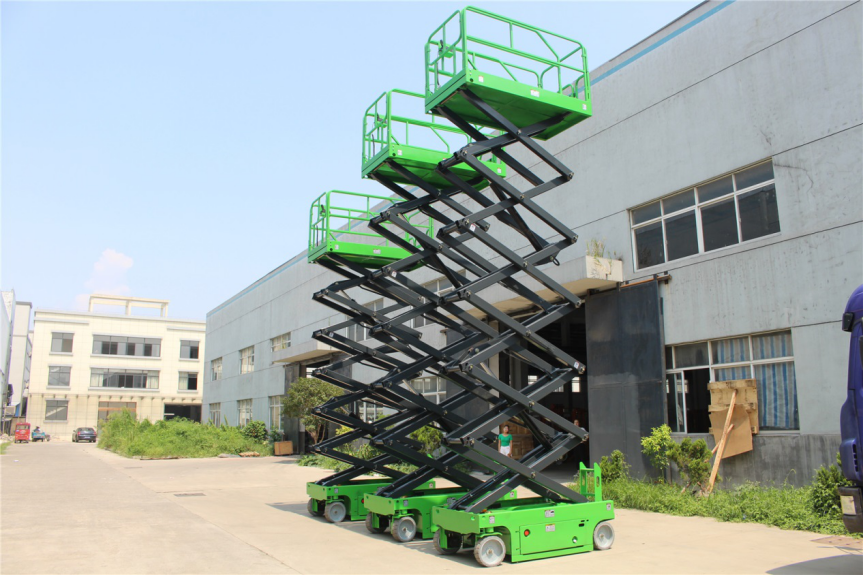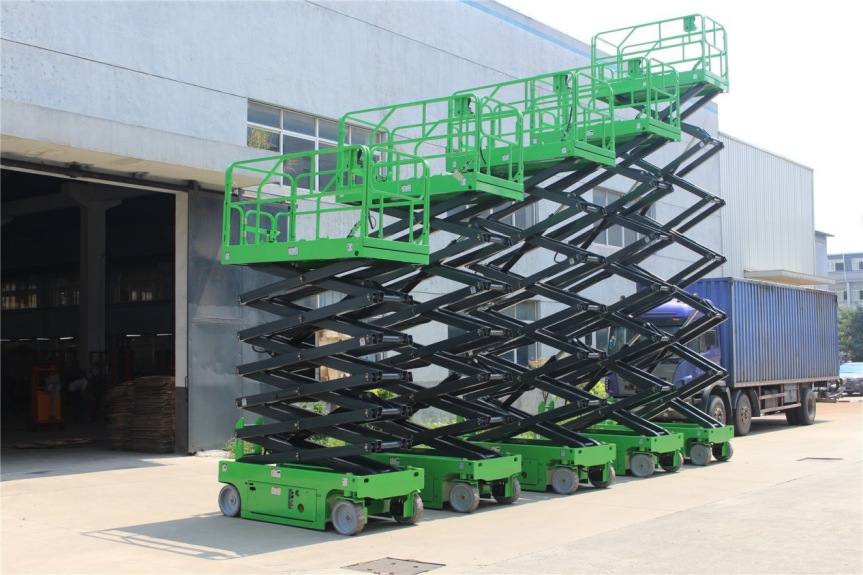 Send your message to us:
Write your message here and send it to us
Products categories