Towable Boom Lift
Technical Data
Real Photo Display
Feature Configuration
Product Tags
Towable Boom Lift is a kind of hydraulic lifting tool that can rotate 360° to lift pedestrians or goods. We have several types of boom lifts to choose from. Our company can provide both towable lift and self-propelled articulated boom lift. Hydraulic lift equipment has the characteristics of convenient movement, simple operation, large working surface and good balance performance. Trailer booms are widely used in industries and fields that require high-altitude operations such as stations, docks, and public buildings. Choose the construction equipment you need and come to me for more detailed data. Our quality and service will not disappoint you.
A: This is based on your needs to choose DC or AC, we can provide it.
A: You can directly click "Send email to us" on the product page to send us an email, or click "Contact Us" for more contact information. We will see and reply to all the inquiries received by the contact information.
A: Our products have an emergency stop button to ensure the safety of our operators in the event of a power failure or other emergency situations.
A: Our factory has introduced many production lines with high production efficiency, product quality standards, and reduced production costs to a certain extent, so the price is very favorable.
Case1
One of our customers in South Korea bought the trailer arm which is mainly used for airport maintenance and cleaning. Because the airport occupies a relatively large area, they can easily use a car to drag the towable folding arm to perform any maintenance work or cleaning. They can easily handle high-altitude work after purchasing a folding arm. The trailing arm lift can rotate 360°, which makes its aerial work range larger. In this way, there is no need to change positions frequently while working.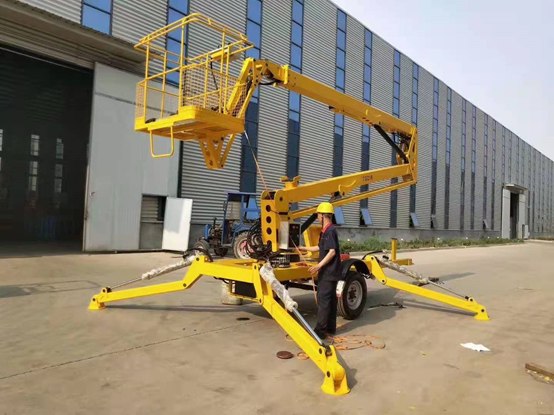 Case2
Our French customer bought our construction machinery for use in the community. Construction equipment can serve the owners in the community, cleaning high-altitude glass, pruning tall trees or repairing some high-altitude mechanical equipment. The folding arm has a strong ability to traverse obstacles at high altitude, and it is safe to use in a complex residential environment. Lift platform is driven by the hydraulic system, so it is more stable and safer, and the workers work more stably.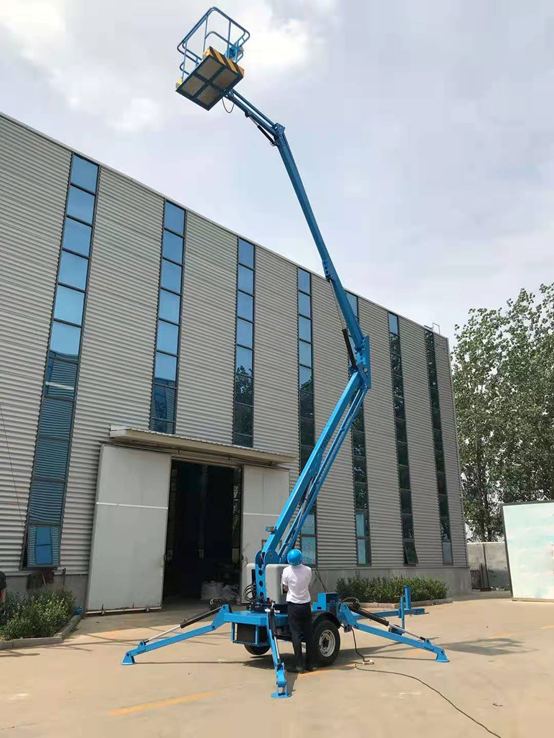 Model Type

MTBL-10A

MTBL-12A

MTBL-14A

MTBL-16A

Lifting height

10M

12M

14M

16M

Working height

12M

14M

16M

18M

Load capacity

200KG

Platform size

0.9*0.7M

Working radius

5M

6.5M

8M

10.5M

Net Weight

1855KG

2050KG

2500KG

2800KG

Overall Size( L*W*H)

6.65*1.6*2.05M

7.75*1.7*2.2M

6.5*1.7*2.2M

7*1.7*2.2M

Supporting Legs Stride Distance (Horizontal)

3.0 M

3.6 M

3.6 M

3.9 M

Supporting Legs Stride Distance (Vertical)

4.7 M

4.7 M

4.7 M

4.9 M

Wind Resistance Level

≦5

20'/40' Container Loading Quantity

20'/1set

40'/2sets

20'/1set

40'/2sets

40'/1set

40'/2sets

40'/1set

40'/2sets

1

Diesel Power Motor (YSD Motor)

Multiple power modes available

2

Gasoline Power (Honda Motor)

3

AC-electrical Power (Xi'an Motor)

4

DC-battery Power(Bucher Motor)

5

Diesel + AC Power (Hybrid Power)

6

Gas + AC Power (Hybrid Power)

7

Diesel + DC Power (Hybrid Power)

8

Gas + DC Power (Hybrid Power)

 9

AC + DC Power (Hybrid Power)
LED Light on the basket for night working (FREE)

Tail Light & Brake Light (FREE)

Warning Light on 4pcs automatic supporting legs(FREE)

Germany Imported ALKO Brand Brakes (FREE)

Water Proof Control Panel on Platform

Dual fail-safe Waterproof Control Panel

Waterproof Electrical Box, Battery Power Indicator,Emergency Stop

YSD Diesel Motor
(Standard)

Diesel/Gas Motor are equipped with manual accelerator.

Honda Gasoline Engine (Optional)

Switzerland Bucher DC Battery Motor (Optional)

Charging Socket

Torsion Shaft with great shock absorption function,
Pneumatic Rubber Wheels,Electric Magnetic Brake

Two Way Cylinder with Balance Valve&Emergency Decline Switch

Precise Hydraulic Hose,absolutely no oil leak

Control Rod for 4pcs Automatic Hydraulic Supporting Legs

Hydraulic Oil Tank Filtration Alarm System

2 Windows for easy maintenance

360degree Turn Plate with Speed Reducer Technology Motor.

Telescopic Boom for 14m 16m model types

Special Design Cambered Joint
Precise Joint Connection/Clamps

Sliding Block of Telescopic Boom

Durable basket with Anti Pinch Design Structure

Ladder and Door of the Platform

Basket Adjust Leveling Switch

Safety Lock of Basket Prevent Shake when Tow the basket.

Small Cylinder Under Basket to Keep the Platform Horizontal

Lifting and Keep Balance Chain
(for 16m)

Safety Lock of Arm.Prevent Shake when Tow the Lift

Tilt Angle Sensor,Platform won't Up/Down if body more than 4

Limited Switch for Safety Precaution

Siren can be connected or disconnected

Dismountable Towing Rod

Excellent Cutting and Powder Coating Spray Paint

Neat Wiring and Hydraulic Hoses

Very Compact and Precise Structure Design

4pcs Automatic Hydraulic Supporting Legs with flexible Angle Adjustment Function

Rubber Balance Wheels

Full set of Warning Notes
---
---
v Equip Germany ALKO brand brakes with high quality
v Equip Switzerland Bucher brand DC pump station
v Equip Japan Honda brand Gas pump station
v Equip China Famous YSD brand diesel pump station
v Equip waterproof and dust proof electrical box.Suitable for outdoors working.
v Waterproof control panel can be Equipd when raining.
v Self Levelling sole for efficient and safety operation
v Water proof diesel engine,motor and battery cover
v Humanized access hole for daily convenient maintenance
v Manual Diesel engine accelerator much more flexible to operate.
v Two way cylinders with balance valve and emergency decline switch. Even hydraulic hose rupture, platform will none drop down to guarantee completely safe.
v Equipped with basket levelling switch,make adjust basket much more easier.
v Equipped with Torsion Shaft with great shock absorption function, which make it better at walking on road.
v Hydraulic oil filtration alarm system,remind you replace hydraulic oil when there is impurity in the oil.
v Basket and Arm lock system avoid equipment body waggling during transportation.
v Humanized LED Flood lights on platform for working
v Equipped with brake lights connected with tractor.
v Equipped with caution lights on each legs.
v Anti-pinch hand basket.
v Equipped with safety harness to protect operator.
v Stable Rotary motor,360°rotation.
v Wide Horizontal reach from 5m to 10.5m with telescopic arms
v Max 40Km Working Speed
v Multi power for choice,such as AC,DC, AC&DC,Diesel, Gas and so on.
v Offer FREE quick wear parts for quick replacement
Send your message to us:
Write your message here and send it to us