High Configuration Dual Mast Aluminum Aerial Work Platform CE Approved
Technical Data
Real Photo Display
Product Tags
High-configuration double mast aluminum aerial work platform adopts high-strength and high-quality aluminum alloy material, which has the advantages of beautiful appearance, small size, light weight, balanced lifting, safety and reliability. Double mast lifting equipment is very convenient to push and go up and down, and it can pass through general halls and elevators.
Compared with high-configuration single mast aluminum aerial work platform, the maximum height that can be reached by the high-configured double mast aerial work platform can reach 16 meters. High-configuration double mast aluminum alloy equipment is widely used in factories, hotels, restaurants, stations, airport theaters, exhibition halls and other places. It is the best safety partner for maintenance of equipment, paint decoration, replacement of lamps, electrical appliances, cleaning and maintenance.
The two sets of mast supporting work platforms of the lifting machinery are lifted synchronously and have excellent working stability; as a high-quality manufacturer in China, the quality of our double mast lifts has obtained CE certification and can be relied on. According to the different performance and purpose, we also have other aluminum alloy aerial work platforms with a variety of functional styles.
A: High-configuration double mast aerial work platform is 8-16m, and the load capacity is 150-300kg. Choose the right model according to your needs.
A: This man lift supports optional equipment: battery power,AC+DC option and so on.
A: Both the product page and the homepage have our contact information. You can click the button to send an inquiry or contact us directly: sales@daxmachinery.com Whatsapp:+86 15192782747
A: We shall to offer 12 months warranty time with free spare parts and although over the warranty time, we will offer charged parts and online technical support to you for a long time.
Model No.

DWPH8


DWPH10


DWPH12


DWPH14


DWPH16


Max.Platform Height

8m

10.4m

12m

14m

16m

Max Working Height

10m

12.4m

14m

16m

18m

Load Capacity

300kg

250kg

200kg

200kg

150kg

Platform Size

1.45*0.7m

1.45*0.7m

1.45*0.7m

1.8*0.7m

1.8*0.7m

Occupants

Two people

Outrigger coverage

2.45*1.75m

2.45*2.1m

2.45*2.1m

2.7*2.8m

2.7*2.8m

Overall size

1.45*0.81*1.99m

1.45*0.81*1.99m

1.45*0.81*1.99m

1.88*0.81*2.68m

1.88*0.81*2.68m

Net Weight

645kg

715kg

750kg

892kg

996kg

Motor power

1.5kw
The Dual Mast Aluminum Aerial Work Platform own bigger platform and higher working height cause it is dual mast design.Dual Mast will offer more support for capacity and working height.We have adopted the world's leading design to make this equipment at the leading level in the industry.Kindly check more advantages below:
Aluminum alloy:
The equipment adopts high-strength aluminum alloy , which is more sturdy and durable.
Safety Inter lock:
There safety inter lock sensor guarantee that if support leg doesn't open,The lift can't work
Support leg:
The design of the equipment has four supporting legs to ensure that the equipment is more stable during work.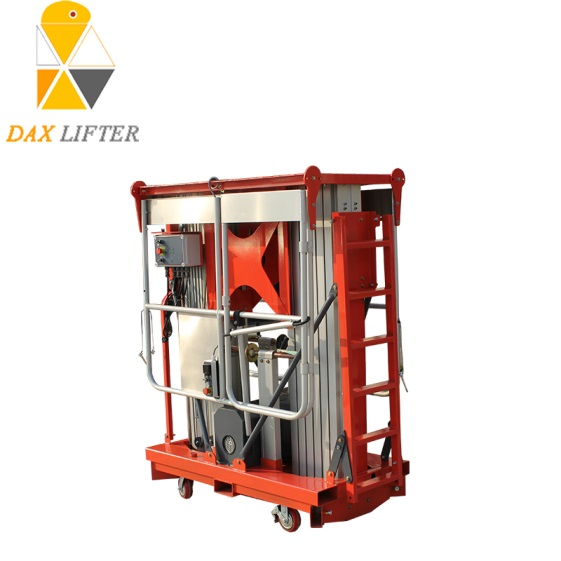 Quick open guard rail and platform:
Only two steps to open the guard rail and platform which is more efficient than old design
Emergency button:
In case of emergency during work, the equipment can be stopped.
Standard forklift hole:
Single mast aluminum aerial work platform is designed with forklift holes, this design is more convenient in the process of moving.
Outriggers interlock indicator:
When the support leg of the device is abnormal, the indicator light will warn. This design can ensure the safety of the support leg when the device is working.
Control panel with AC power:
On the single mast aluminum aerial work platform, the design has AC power supply, which is more convenient for the operator to use the equipment that needs to be plugged in.
Leveling gradienter:
Dual mast lift is equipped with a Leveling gradienter to level the equipment before work to ensure the stability of the equipment during work.
Reinforcing board:
We designed a reinforcing plate between the two masts to make the platform more stable.
High-strength hydraulic cylinder:
Our equipment uses high-quality hydraulic cylinders, and the quality of the lift is guaranteed.
Case 1
One of our Australian customers bought our high-configuration double mast aerial work platform, which is mainly used for the cleaning and maintenance of outdoor high-altitude glass. The maximum height of the high configuration double mast lifting equipment can reach 16 meters, so it can easily reach the working height he needs. The design of the stable support interlock indicator can ensure the stability and safety of the equipment, thereby providing a stable and safe working environment for the operator.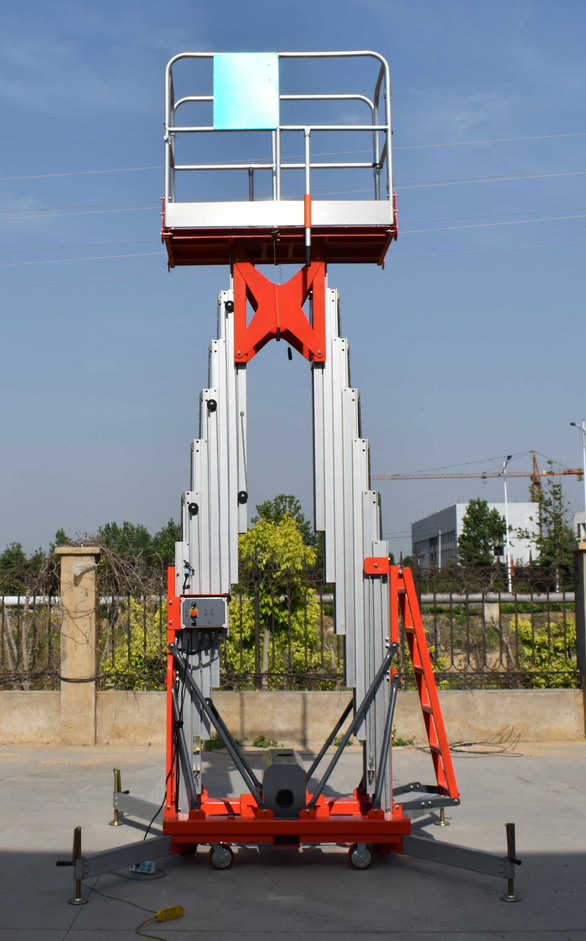 Case 2
One of our Spanish customers purchased our double mast high-altitude work platform mainly for indoor and outdoor maintenance equipment, including indoor lamps and outdoor high-altitude equipment. The double mast lifting machinery is small in size and can easily pass through narrow doorways such as elevators. The design of the forklift hole can easily move the double mast equipment to any working place, which greatly improves the work efficiency. The design of the fence on the platform ensures a safe environment for the staff.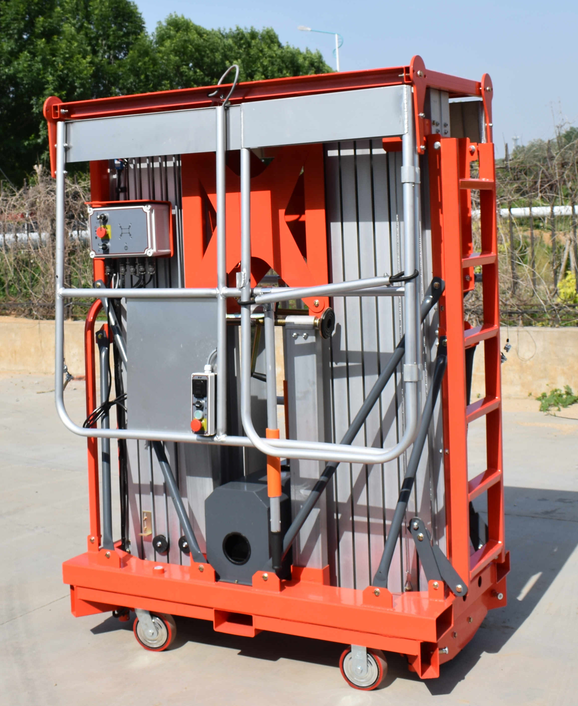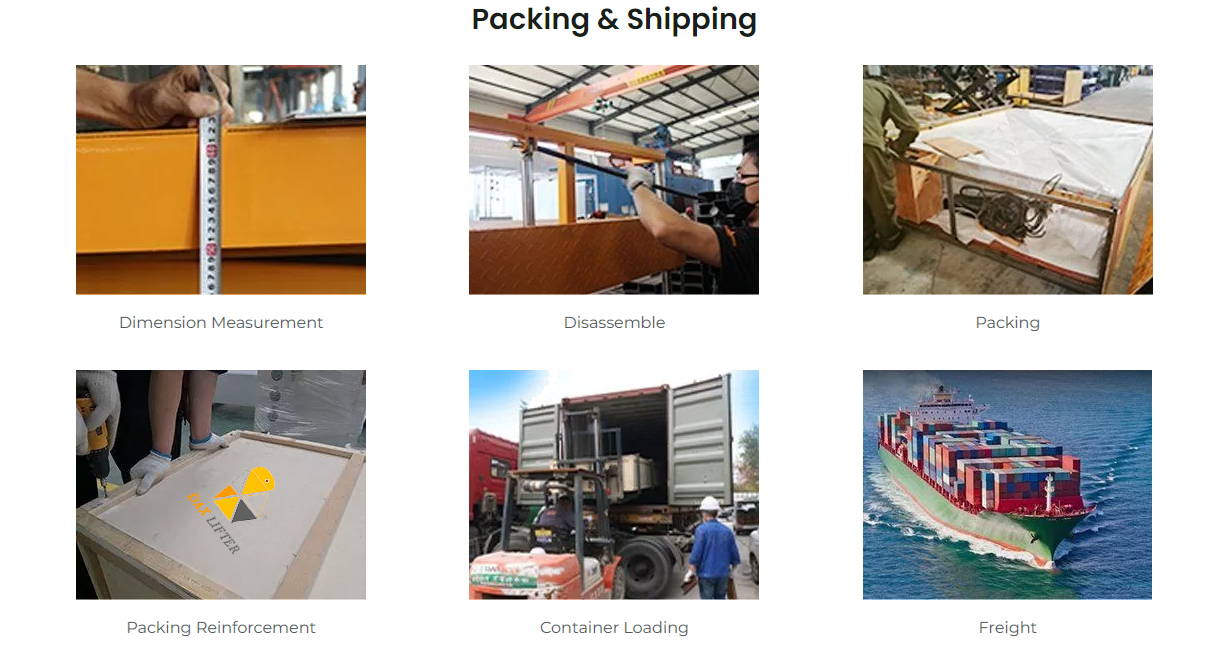 Control Box on the mast, with power switch, emergency button and outriggers interlock indicator

Control Panel on the Platform,with emergency stop button, deadman switch and AC power

Standard forklift hole

Aviation plug and wear-resisting cable
( safe and convenient)

Travel Switch

Leveling gradienter

Reinforcing board (makes the platform more stable)

Lifting chains

Synchronizer device (keep the dual mast lifting at the same time)

Stretchable ladders
---
---
Send your message to us:
Write your message here and send it to us