Aerial Work Plaform Telescopic Type
Technical Data
Product Tags
As a professional supplier of aerial work platforms in China, our new product is a telescopic self-propelled aerial work platform with an extended platform under the Chinese Daxlifter brand. The biggest advantage is its small size, and it is very convenient to move and work. In a small warehouse, the lift can shuttle freely. Compared with the self-propelled single mast aerial work platform, the telescope-type aluminum alloy equipment occupies a smaller space position during the ascent process, and is more suitable for working in a narrow space. The price of telescope aerial work platform is also very economical, which makes us very competitive.
In addition, in the process of manufacturing the telescope-type machinery, the overall manufacturing process of the equipment has been greatly improved, whether it is the design of the control panel or the surface treatment.
For your more detailed parameter information, please refer to the detailed text and picture introduction below. If you need an aluminum alloy aerial work platform with other functions, you can browse our website to find a product suitable for your work. You can send us an inquiry at any time if you have any needs or questions.
A:We will shipping the aerial work platform to the sea port near you then you can pick up by seaport warehouse or let our destination sea port agent help you to do the final land transportation.
A:Use timber box which can protect the China aerial platform very well.
A:As a professional China aerial platform Supplier,We shall offer 12 month warranty time with free spare parts(human causes excepted).
A: You can directly click "Send email to us" on the product page to send us an email, or click "Contact Us" for more contact information. We will see and reply to all the inquiries received by the contact information.
A: Our products have been certified by the European Union, so please feel free to inquire and purchase products.
| | | |
| --- | --- | --- |
| Model | STT3.6 | STT4.8 |
| Max. Working Height | 5.6m | 6.8m |
| Max. Platform Height | 3.6m | 4.8m |
| Loading Capacity | 227kg | 227kg |
| Ext. Platform Capacity | 114kg | 114kg |
| Overall Length | 1.36m | 1.36m |
| Overall Width | 0.76m | 0.76m |
| Overall Height | 1.7m | 1.98m |
| Platform Dimension | 1.8m×0.70m | 1.8m×0.70m |
| Ext. Platform Length | 0.51m | 0.51m |
| Wheel Base | 1.04m | 1.04m |
| Inner Turning Radius | 0m | 0m |
| Outer Turning Radius | 1.4m | 1.4m |
| Travel Speed(Stowed) | 4km/h | 4km/h |
| Travel Speed(Raised) | 1.1km/h | 1.1km/h |
| Up/Down Speed | 31/32sec | 41.5/42sec |
| Gradeability | 25% | 25% |
| Drive Tyres | Φ305×100mm | Φ305×100mm |
| Drive Motors | 2×24VDC/0.5kW | 2×24VDC/0.5kW |
| Lifting Motor | 24VDC/1.3kW | 24VDC/1.3kW |
| Battery | 2×12V/100Ah | 2×12V/100Ah |
| Charger | 24V/15A | 24V/15A |
| Weight | 810kg | 980kg |
DAXLIFTER telescopic man lift is a flexible aerial work platform which has very good working performance in some narrow working space ,for example,warehouse shelter,through some narrow door and so on..Economic price with best quality which make it become to a very popular product in Europe market and North American market.
As a professional manufacturer in north China, we supply aerial lifts to All over the world and get good feedback.Kindly check more advantages for this self propelled man lift below:
Small Volume Design:
This man lift has very small volume which make it suit for working in some narrow space
Extend Platform:
Extend platform can make the working range more bigger
Double control panel on the platform:
Both bottom and top position of the lift has control panel which make the worker control lift more efficient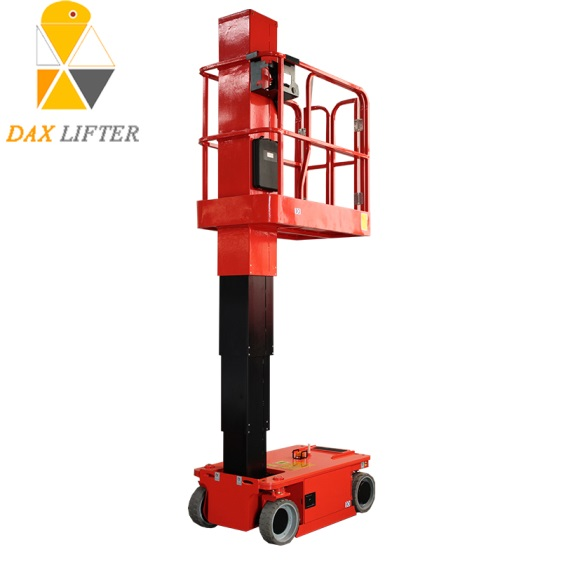 Full hydraulic system:
Hydraulic system support both driving and lifting work.
Emergency button:
In case of emergency during work, the equipment can be stopped.
Standard forklift hole:
Single mast aluminum aerial work platform is designed with forklift holes, this design is more convenient in the process of moving.
Obtained CE certification:
Our factory produces through assembly lines, and the products have obtained CE certification.
Automatic walking function:
It can walk quickly or slowly under different working conditions.
Intelligent charging system:
The aluminum alloy equipment is equipped with a fully automatic charger, which can automatically complete the entire charging process, and automatically stop charging when the battery is fully charged.
Emergency equipment:
Aerial work platform equipped with emergency descent system.
High-quality hydraulic pump station:
The equipment is equipped with a high-quality hydraulic pump station, which is not easily damaged and has a longer service life.
Case 1
Our customers in Dubai buy our telescope-type aerial work platform mainly for indoor decoration work, such as installing equipment, painting walls, etc. Compared with the self-propelled single mast aerial work platform, it occupies less space and is more conducive to working in a small space. The equipment can move by itself, which greatly facilitates the staff. They only need to operate the moving and lifting of the equipment on the platform, which improves the work efficiency.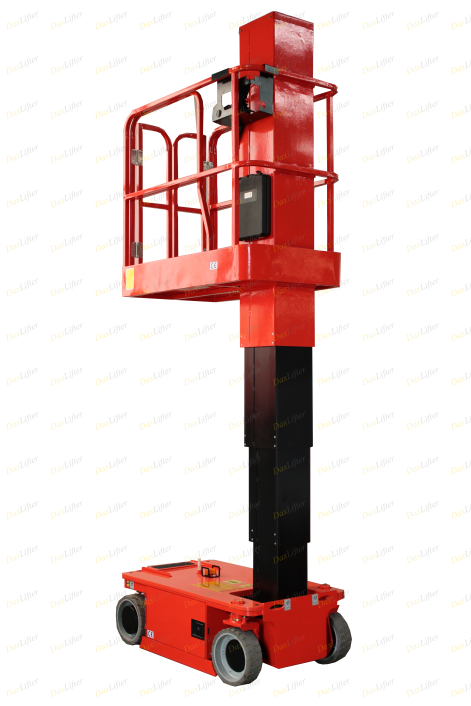 Case 2
Our German customers purchase our self-propelled telescope-style aerial work platforms, which are mainly used in construction sites with narrow spaces. Because of its small size, it can freely shuttle in the elevator, and it can move more flexibly when in use. Its platform table surface can be expanded, the work scope is wider when working at height, and the work efficiency of the staff is improved.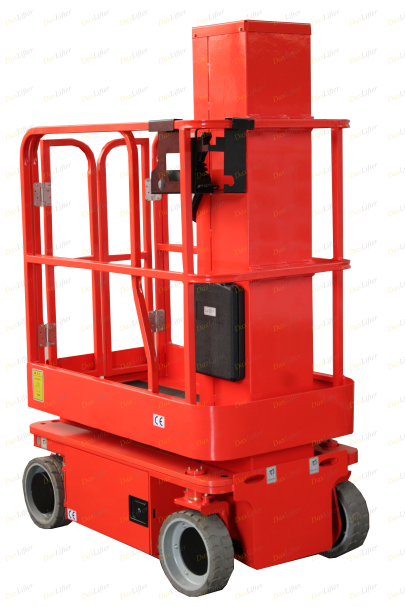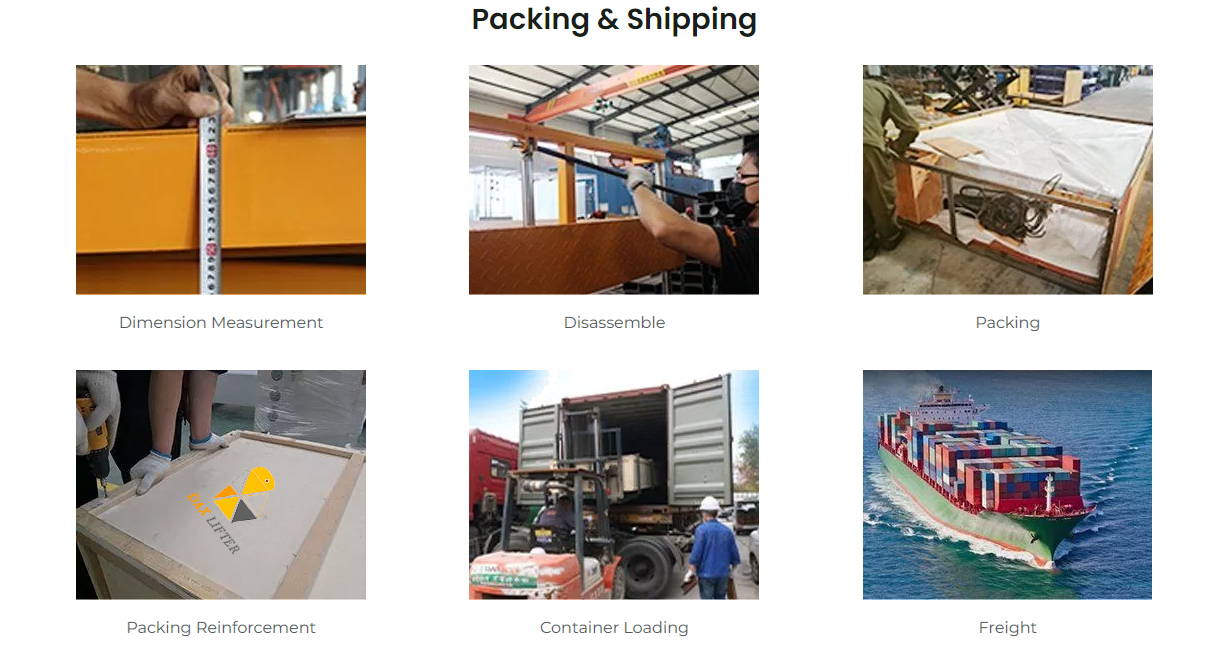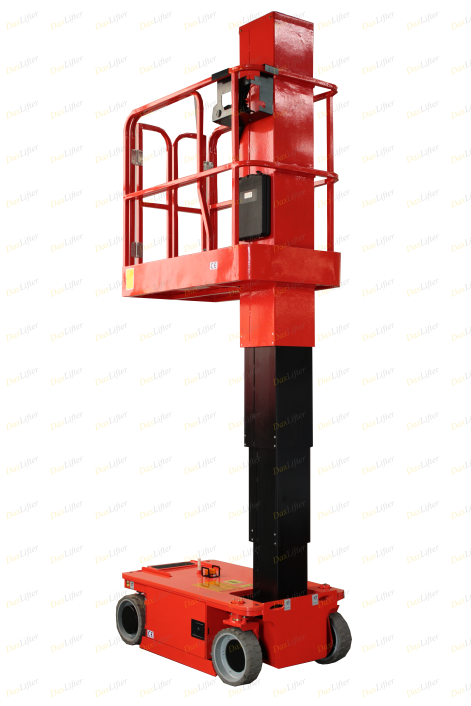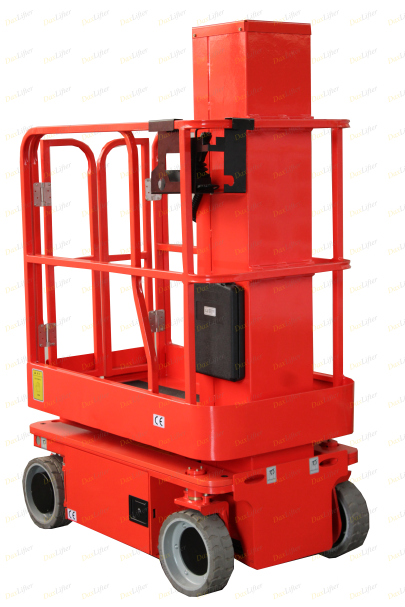 China aerial work platform Daxlifter brand design Integrated control panel.All function control is in a bottom control panel.Of course,there is another control and drive panel on top platform.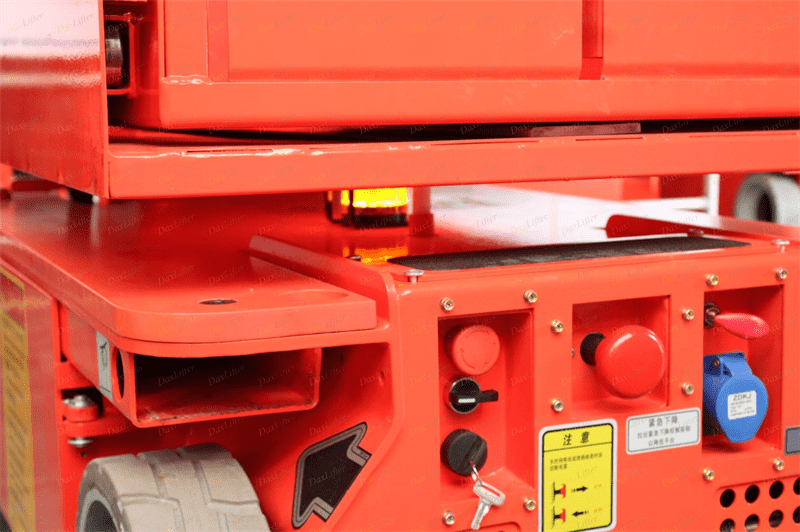 As a professional China aerial work platform supplier,we not only offer economic price but also offer the best quality parts.We choose non-makring sold tyre which is stronger than forklift tyre!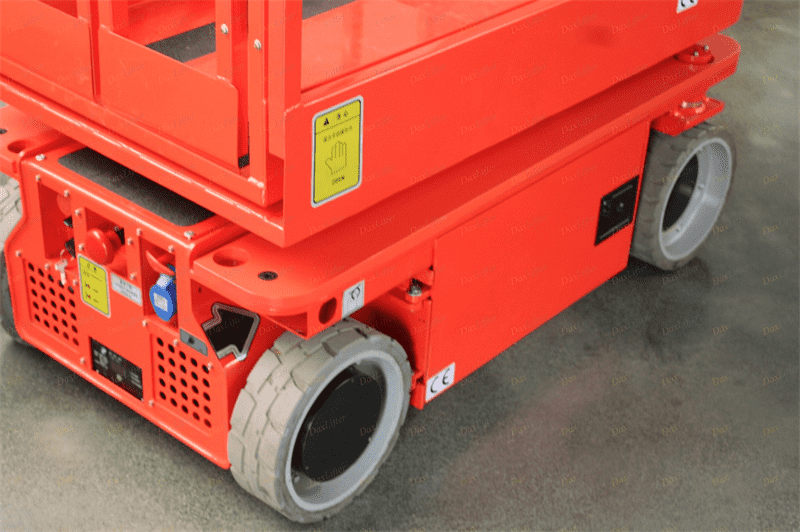 The target of our aerial work platform supplier business is that to be NO.1,as you can see Whether it is internal craftsmanship or external craftsmanship, we have achieved it to the extreme.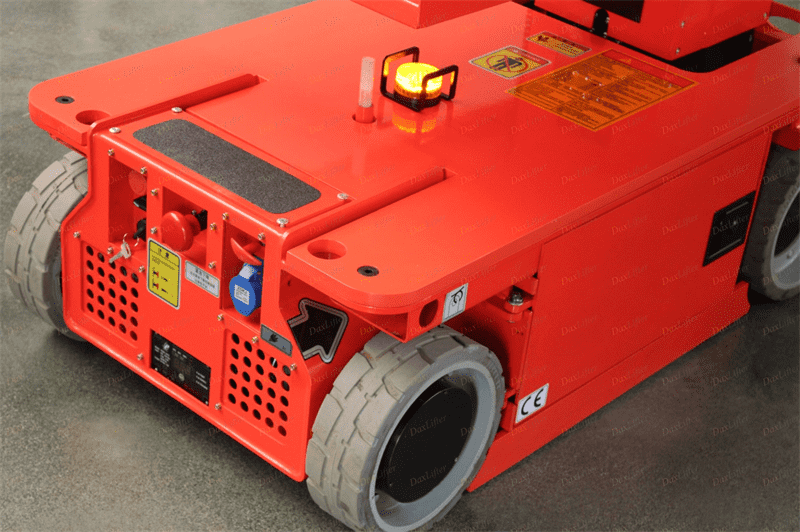 The power indicator is an indispensable part of China Aerial Platform, but we don't just use a simple power indicator like ordinary suppliers. Instead, an integrated multi-function power display meter is used.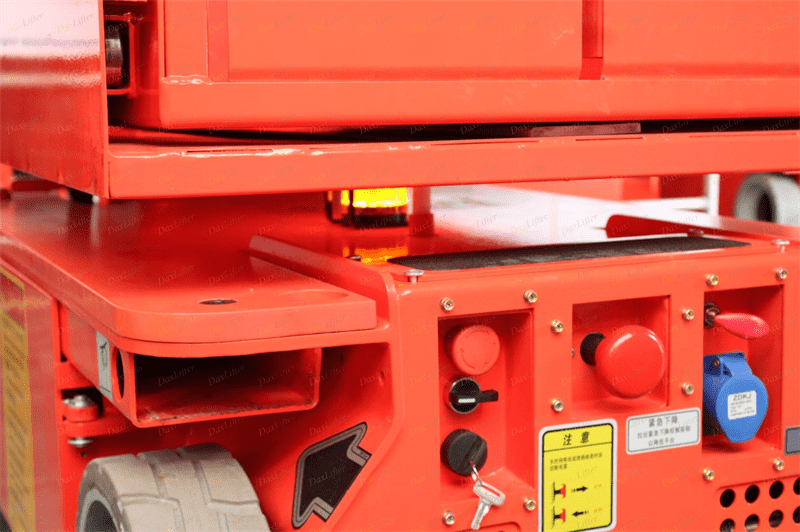 ---
---
Send your message to us:
Write your message here and send it to us